Securbiop®
Biopsy Cassette Holder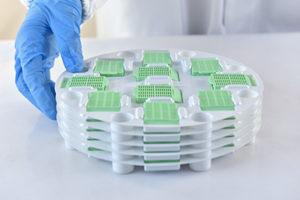 The cassette holder is an accessory specifically designed to be used with the big dimension SecurBiop® container.
It has a diameter of 190 mm, a height of 14 mm and can contain up to 10 standard histology cassettes (28x40x7 mm). It is packaged in a standard kit containing 5 cassette holders + 1 additional cassette holder to be left empty on the top, with the aim to prevent the layers below from floating on the formalin surface.